Rummage Sale Setup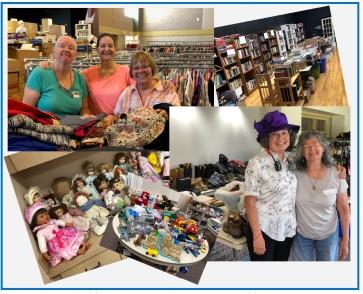 SAVE THE DATE and plan to attend the St. Gall Annual Rummage Sale.
~Friday, AUGUST 5, 7am - 5pm
~Saturday, AUGUST 6, 7am - 3pm
How to Volunteer

Volunteers will be needed starting July 5, 2022. Working hours are Monday – Friday, 9:00 to 3:00. You do NOT need to spend the entire day… even one or two hours at a time would be appreciated.

CONTACT INFORMATION: Marilou at (775) 782-8191

St. Gall is always looking for energetic volunteers to help with the Rummage Sale. What do you need to have in order to qualify as a volunteer?

A positive attitude and a willingness to work as a member of the team

You do NOT need to be Catholic

Ability to lift 15 to 20 lbs, and walk (move around) many obstacles that tend to be in the way. (SAFETY is our #1 concern).

It is because of our wonderful volunteer base that this sale is such a success!
How to Donate

Donations are now being accepted for the St. Gall August Rummage Sale. Donations may be dropped off Tuesday through Thursday from 9:00 a.m. until 1:00 p.m. at our Rummage Building behind the Church 1343 Centerville Lane.

BEGINNING JULY 11TH DONATIONS CAN BE DROPPED OFF BEHIND THE GYM FROM 9AM TO 3:00 UNTIL AUGUST 2ND.

Please, only gently used items, (nothing stained, broken, ripped, or torn). Items we cannot accept:

Entertainment units

Pianos/Organs

Mattresses

Skis

Chemicals/Paint

TVs (ONLY WORKING FLAT SCREENS)

Dirty or broken furniture

Tires
How to Arrange for a Pickup

We have volunteers who can pick up large items such as couches, chairs, tables, etc.

If you are donating these items, simply call the Office during business hours at 775-782-2852 to schedule a pickup.

When you call, be prepared to tell us:

where you live and your contact information.

a description of the items to be picked up.

will your items fit in a pickup or do we need a trailer?

will we need extra people to load your items?

Please note that our pick up crews are all volunteers. The information that is outlined above will be given to our Pick Up Coordinator and someone will call you back to discuss a date and time that will work for everyone.